Moving walks, also known as travelators or moving sidewalks, are mechanical devices designed to transport people across short or long distances. They are commonly found in airports, shopping malls, and train stations, among other public places. In this article, we will provide a summary of the benefits and considerations of moving walks.
Increased Efficiency: Moving walks increase the efficiency of transportation within a building or area. They reduce the time required for people to walk from one point to another, enabling them to cover longer distances in a shorter period of time.
Improved Accessibility: Moving walks can make it easier for people with disabilities or mobility impairments to move around a building or area. They eliminate the need for people to climb stairs or use elevators, making transportation more accessible to everyone.
Reduced Congestion: Moving walks can help reduce congestion in high-traffic areas, such as airports and train stations. They allow more people to move through a space quickly, reducing the likelihood of congestion and delays.
Energy Efficiency: Moving walks are designed to consume less energy than other forms of transportation, such as escalators and elevators. They are typically equipped with sensors that detect when someone is using them, and they automatically adjust their speed to conserve energy.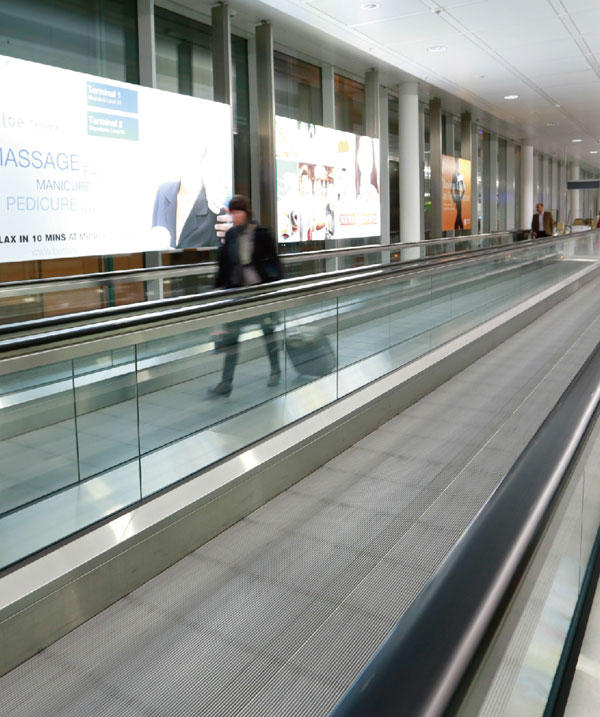 Considerations of Moving Walks:
Safety: Moving walks can pose a safety risk if not used properly. People can trip and fall if they are not paying attention, and children can easily become trapped or injured if left unsupervised. It is important to use caution and follow safety guidelines when using moving walks.
Maintenance: Moving walks require regular maintenance to ensure that they are functioning properly. This can be costly and time-consuming, especially if they are used frequently.
Cost: Moving walks can be expensive to install and maintain. The initial cost of installation can be high, and ongoing maintenance costs can add up over time.
Capacity: Moving walks have a limited capacity and may not be able to accommodate large groups of people at once. This can lead to congestion and delays during peak hours.
In conclusion, moving walks can provide a variety of benefits, including increased efficiency, improved accessibility, reduced congestion, and energy efficiency. However, they also come with considerations such as safety, maintenance, cost, and capacity. As with any technology, it is important to weigh the pros and cons before deciding whether or not to install a moving walk in a building or area.