Machine room hospital elevators are a critical component of healthcare facilities, providing safe and efficient transportation for patients, medical personnel, and essential equipment. To ensure the well-being of patients during transit, these elevators are equipped with a range of specific safety features that are designed to address the unique needs and challenges of the healthcare environment.
1. Smooth and Controlled Movement:
Hospital elevators are designed to provide smooth and controlled movement, minimizing jolts and abrupt stops that could be uncomfortable or harmful to patients, especially those in critical conditions. Advanced motor control systems ensure gradual acceleration and deceleration, contributing to a gentle ride experience.
2. Spacious Interiors and Accommodation for Stretchers:
Hospital elevators
are often designed with spacious interiors to accommodate stretchers and medical equipment alongside medical personnel. This ensures that patients on stretchers can be transported comfortably without causing additional stress or discomfort.
3. Bed Exit Alarms and Call Buttons:
Hospital elevators are equipped with bed exit alarms that alert medical staff if a patient attempts to leave the elevator unattended. Call buttons within the elevator allow patients or medical personnel to quickly request assistance in case of emergencies or unexpected events.
4. Handrail and Grab Bars:
Handrails and strategically placed grab bars inside the elevator provide patients with additional support and stability during transit, helping them maintain balance while the elevator is in motion.
5. Emergency Stop and Communication:
Emergency stop buttons are readily accessible inside the elevator, enabling anyone in distress to halt the elevator's movement in case of an emergency. Additionally, intercom or communication systems allow passengers to communicate directly with building personnel or medical staff in case assistance is required.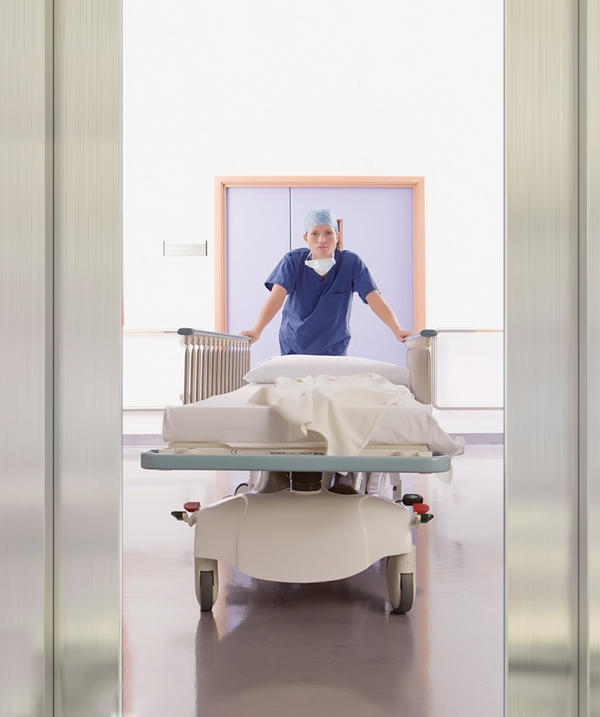 6. Seismic and Vibration Safety:
In regions prone to earthquakes, hospital elevators are designed to withstand seismic activity and vibrations. This ensures that elevator functionality is maintained during and after an earthquake, allowing safe transportation of patients even in challenging circumstances.
7. Ventilation and Temperature Control:
Hospital elevators are often equipped with ventilation systems to ensure a steady supply of fresh air within the elevator car. Temperature control features help maintain a comfortable environment for patients, preventing overheating or discomfort during transit.
8. Backup Power Systems:
To prevent disruptions in elevator operation during power outages or emergencies, hospital elevators are equipped with backup power systems. These systems ensure that elevators can continue functioning, allowing patients to be transported safely even in adverse situations.
9. Overload Protection:
Sophisticated sensors and systems are integrated to prevent elevator overload. If the weight limit is exceeded, the elevator will not move and an alert will be generated to ensure that the load is reduced to a safe level.
10. Fire and Smoke Safety:
Hospital elevators often feature fire-resistant materials and sealing mechanisms to prevent the spread of smoke and fire between floors. In the event of a fire, these elevators may have designated "fire-rated" status, enabling them to be used for evacuation.
11. Impact-Resistant Construction:
Given the potential for medical equipment and stretchers to accidentally impact the elevator walls, these elevators are often constructed with impact-resistant materials that can withstand minor collisions without causing damage or posing a risk to passengers.
12. Infection Control Measures:
Hospitals prioritize infection control, so hospital elevators may be equipped with easy-to-clean surfaces and materials that resist the growth of bacteria and viruses. This helps prevent the spread of infections within the elevator.
13. Privacy Features:
For sensitive situations such as transporting patients in critical condition or individuals with contagious illnesses, hospital elevators may include privacy features such as tinted glass or curtains to maintain patient confidentiality.
In conclusion, machine room hospital elevators are equipped with a comprehensive array of safety features designed to ensure the well-being of patients during transit. From smooth movement and spacious interiors to emergency communication systems and infection control measures, these elevators are tailored to the unique needs of healthcare facilities. By integrating these safety features, hospital elevators contribute to providing efficient and secure transportation for patients and medical personnel in a manner that prioritizes their comfort, safety, and overall well-being.